Technical Information
B3ZRM Pump Curves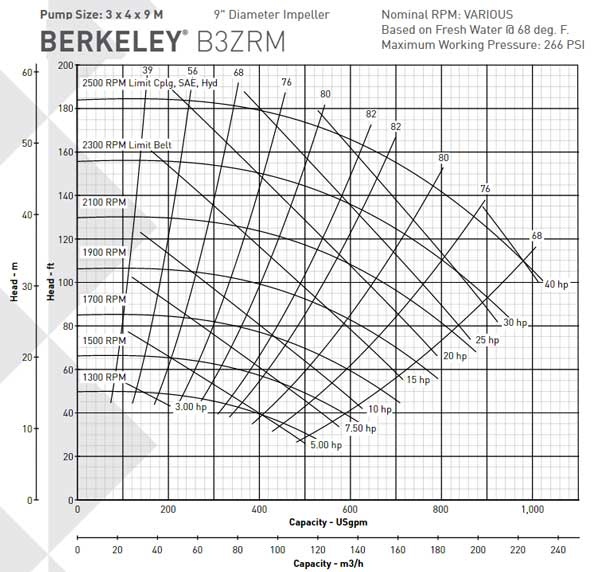 B3ZRM Pump Curves - Berkeley Water Truck Pumps
Berkely Heavy Duty Pump Features & Benefits
---
Pumpcatalog.com offers great prices for these pump models and most are in stock! Search a water truck pump by entering inthe "BM" number (the letter B followed by 5 digits) in the top of our website where it says "What are you looking for?" Press Enter and you will be taken right to the product page. You can add to cart and checkout online. If you have any questions please feel free to give us a call and our experienced sales member will be able to take care of your needs.
Heavy Duty Bearing Frame: Dimensionally interchangeable with the Standard Bearing Frame. Designed to maximize LT bearing life.
Sealed Bearings: No in-field greasing is required. Keeps dirt and debris out of bearing.
Improved Bearing Retention method: Allows for extended dependability with minimal maintenance.
O-Ring casing seal (vs. Gasket): Better sealing method, more convenient for assembly/disassembly; allows easy rotation.
Hefty 1-1/4" Keyed Impeller Shaft: Delivers excellent reliability and durability under all types of operating conditions. Offers easier removal and reduces shaft kit inventory for repairs.
416 SS Slip-fit Shaft Sleeve: Offers safer, faster and easier maintenance. Sleeve installation does not require a torch, heat or cooling time, which can cause sticking or galling of the shaft.
Cast Iron Impellers: Fine grained and precision cast to ASTM A48 Class 30.
Casing: Available in CW and CCW models, with either NPT, Flanged or Victaulic connections. Casing can be rotated every 45 degrees for convenient mounting.
Packed Stuffing Box Design: 2-piece packing glands; large opening is easily accessed on either side for improved serviceability.
Improved Bolt clearance: More working room for easier installation.
B85482
B85485
B85480
B85483
B59539
B59538
B85481
B85484
B70278
B85874
B86070
B85578
B85579
B85580
B85581
B85582
Materials of Construction
Volute Case - Cast Iron
Impeller - Cast Iron
Adapter Bracket - Cast Iron
Shaft Sleeve - 416 SS (Stainless Steel)
Packing - Graphite impregnated PTFE Packing
Pump Size: 3 x 4 x 9 M (9" Diameter Impeller)