News
Hayward SV Series True Union Solenoid Valves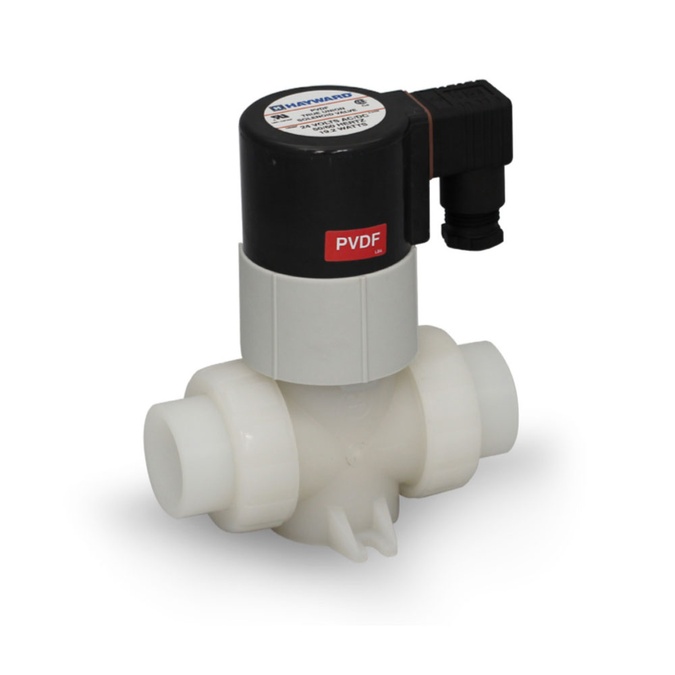 New Product - Hayward SV Series True Union Solenoid Valves
Hayward Flow Control, Actuation and Controls New Product - SV Series PVDF True Union Valves!
The SV Series solenoid valves from Hayward are molded in Natural PVDF offered with socket fusion and threaded end connections. Standard voltage is 120 VAC. Specify optional voltage of 12 or 24 VAC/VDC or 220VAC. Normally closed only. Hayward Product Offerings Include: Actuation & Control Valves
SV Series Model Examples
PVDF with FPM O-Rings
Key Features
Natural PVDF (NEW)
Corrosion Resistant Polyester Coil
No Pressure Differantial Required for Operation
Both 1/2" Conduit or SJ Type Cord Electrical Connection
Standard 120 VAC
Normally Closed Design
Options
12 VAV | 24 VAC | 220 VAC | 12 VDC | 24 VDC
Materials
FPM O-Ring Seals
Natural PVDF per ASTM D3222 Type 1
Parts List
Solenoid Coil
Electrical Connector
Bonnet Nut
Seal Cartridge
O-Rings
End Connector
Body
Union Nut
Note: Optimal Performance - Differential Pressure Must Not Exceed 90 PSI Across the Valve.