News
Grundfos Food Processing Pumps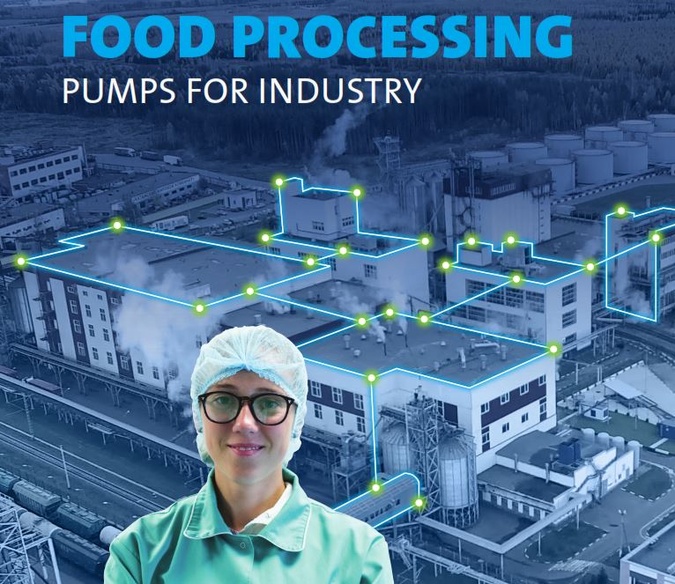 Grundfos Food Processing Pumps
Your Answer To Water & Efficiency Challenges
Complete, Efficient Solutions To Meet Processing Plant Demands.
CR / CRE, LF / LFE, LC/LCSE, CM / CME & DDA / DDE
Grundfos understands the challenges of demanding food processing plants. Safely, uptime, processes, resources and government regulations are just a handful of concerns for managing any food industry plant. In efforts to continuously advance product capabilities, Grundfos Pumps continues to be the top trendsetter of innovation in water technology.
There are a variety of models and pump types specifically designed for food processing including:
CR / CRE Vertical Multistage Pumps
LF / LFE
LC / LCSE
CM / CME Horizontal Multistage Pumps
DDA / DDE Chemical Dosing Pumps
Pressure Boosting - Grundfos CR centrifugal multistage pumps and inline and vertical style pumps. The CR series is known for reliability, adaptability and efficiency. Using a modular approach, you will be able to pick and choose pumps to handle any non standard or high temperature situations. With a MLE motor and sensor, the CRE models become fully integrated and intelligent pump solution that can adapt to any change in your plants food processing system.
New Range Grundfos CR's - Constantly pushing the limits for vertical and Inline centrifugal multistage pumps. The new CR 95-155 increases the performance coverage significantly more that the previous range offering more than 1,000 Gallons Per Minute (GPM) and 580 PSI (Pounds Per Square Inch).
Multi Pump Solutions - The CR Pump series is the backbone for Grundfos plug and play hydro systems configurable up to 6 CR pumps at a time for flow up to 5,400 GPM.
Dosing & Disinfecting - Dosing and disinfection product rage from Grundfos covers it all from drinking water to antimicrobial washes. Delivering dosing reliability and accuracy to areas that food processing plants cannot afford to make mistakes.
Smart Digital Dosing™ - Grundfos Digital Dosing rases the bar when it comes to traditional dosing pumps. Using a stepper motor the volume dosed is changed by the discharge stroke speed and continuously utilizing 100% of the stroke length. Optimum dosing accuracy and efficient off gassing of liquids is the result from this technology.
DDA Series
Top of the Line DDA pump is the perfect solution for demanding and complex applications.
Control variants offer a range of intelligent options such as fault diagnosis, built in pressure monitoring, flow measurement and Auto Flow Adapt.
The DDA range of performance offers up to 52.8 GPH and is the perfect solution for delivering high flow accuracy.
DDE Series
Premium performance cost effective solution with basic functions for simple applications.
Scale adjustment dial enables precise low flow settings up to 52.8 GPH.
Same drive strategy as the DDA series.
Washing & Cleaning - Cleaning in place or CIP and SIP, sterilization in place systems are perfect for industries where hygiene is of critical importance. Grundfos dosing pumps add only necessary chemicals, detergents or disinfectants.
Wash Down Systems - If you choose a Grundfos Pump for your wash down system you are guaranteeing outstanding performance. Multistage centrifugal pumps like the CR and CM series, ensures that pressure is high at all times. Fitted with a frequency converter, the pump operates at various pressures while dispensing chemicals at a low pressure, washing down at high pressure while spot cleaning at an even pressure.
CM / CME - The CM pump from Grundfos is horizontal inline multistage that is compact, efficient and reliable pumping solution. The CME becomes intelligent and fully integrated by the addition of a variable speed MLE motor.
Designed for use in a variety of applications including:
Washing & Cleaning
Temperature Control
Water Treatment
LC / LF / LCSE - Close coupled and frame mounted end suction pump models are industry standards for performance, durability and quality. The low life cycle costs along with the vast array of sizes offered, 32, is sure to fit your specific application pumping needs. An innovative pump and impeller design produces an increase of up to 91% in operation efficiency.
In conclusion, Grundfos is the perfect fit for anyone managing a food processing plant.